Caught-In-The-Act Psycho Straitjacket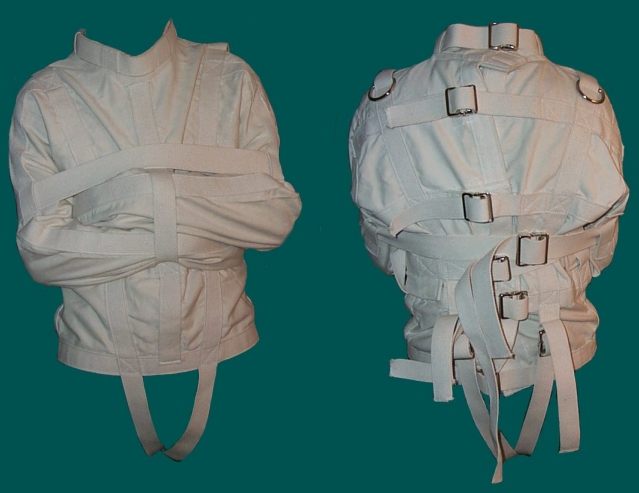 Caught-In-The-Act Psycho Straitjacket (Size large)
This is a awesome straitjacket come is custom made by Max Cita, owner of Caught-In-The-Act, a fashion house from Ottawa that offers a fascinating line of designer jackets. This jacket is an example of their top of the line Psycho model. It is an extraordinarily well made jacket with several unique features. In many ways it is similar to a standard medical jacket made by Posey, but it is made from a heavier cotton material and is much more secure.
For example look at the crotch straps in the picture shown above. Each strap is made of a strong webbing that runs continuously from the bottom rear buckle, up over the shoulder, down the front, under the crotch back to the buckle. At the shoulders there are two "suspension rings" that can be used to keep you on your toes. There are arm loops at the front and sides and a unique pinion strap that goes around the upper arms and fastens in the back. A special neck collar gives added security without a loss of comfort.
If you are looking for a really special jacket, this is the one for you. Dr. Mad Max Cita builds his jackets special for each customer. If you are truly crazy, let him design one for you.
Mac Cita's Caught-in-the-Act web site
Return